Looking back at the locality where one grew up is always fascinating. True. Senior journalist M Rafi Ahmed recalls his childhood days at Hafispet Street residential area in the heart of the city. Back to B1 Police Station, one needs to cross the row of rice mundies on both sides to reach the neighbourhood situated at the tailend.
Opening up his heart to this historian and columnist, he said, "I alongwith my elder brother and younger sister lived with my parents SSS Mohamed Haneef and Ummul Ihasan Bibi at a rented house belonging to one Ismail, who was a Divisional Engineer, Telephones then. Later, his father purchased the house. The area used to be crowded and congested with push carts and lorries parked in front of the dwellings. The hooting of horns used to be troublesome those days ."
Shedding light on Hafispet Street, he said that it was named after Hafiz Sahib, a municipal commissioner, who played a pivotal role during an epidemic outbreak that greatly affected the health of the people. The official used to come in a horse drawn vehicle to the area and supervised the entire stretch was cleaned up.
Rafi's father was a wholesale rice merchant and had his shop at R G Street (the building owned by Asoka Betelnut company M K Kuppuraj). Rafi reminisces of drawing drinking water loaded in drums in a push cart from his shop (with a big hall on the upstairs, rest room, bathroom and mega size concrete tub to store water) to his home around 4am since there was water scarcity those days.
As a school going boy, Rafi recalls learning to ride a bicycle at the nearby municipal school ground. And one Sabhan used to rent out cycles in the locality. Riding cycle was a pastime for many young boys those days too during weekends and holidays. In the late evenings, Rafi remembers playing hide and seek with his friends.
About his schooling, he said, "My schooling commenced from Our Lady of Fathima Convent opposite to Carnatic Theatre and continued from fourth class at Mani High School. It was English teacher Shanmughamani (character name used by director K Bhagayaraj in his movies as a dedication to his teacher), who identified my writing skills and motivated me to pen stories to magazines like Mirror, Blitz, Current, Illustrated Weekly. All credit goes to him for making what I am now."
Rafi recalls his teachers, who were gems including Head Masters Chinnaswamy Naidu, Ekambaram and Padmanabhan. "The Hindi Pandits Arumugham Master and Ramaswamy motivated me to write a few Hindi exams that were conducted by the Dakshin Bharat Hindi Prachar Sabha. Sharma Master taught us Maths and he used to observe a vow of silence (Mouna Vratam) every Wednesday. The replies would be written on the board itself", he remembered.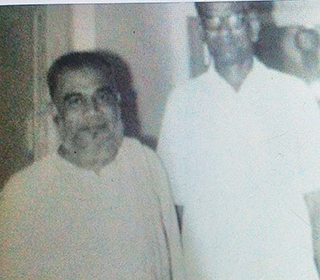 Well, Rafi was an average student who never failed and he used to have self study. He was craze for books like James Hardly Chase, Perry Mason and Tarzan. Industrialists Suresh Jagannathan, Ramesh Rudrappan besides Mani Gopalakrishnan were his classmates. Shalini Shivakumar (Former DGP Vijayakumar's brother) was also his classmate. Sasi Advertising Swaminathan and Vanitha Mohan (Founder – Siruthuli) were among his seniors. In short, Mani High School brought the best out of him, "smiling said Rafi while talking about his formative years.
Newspaper reading was a must for Rafi during his childhood days as his father used to subscribe to two English dailies-Indian Express and The Hindu. Actually, he developed his writing skills browsing thru' dailies. More importantly, he used his father's first form (Sixth class then at Karur Municipal high school) idiom book for reference.
Rafi's father was also an Honarary Magistrate, who used to sit alongwith Chandrakanthi Govindarajulu during Monday bench at 'Kudiravandi Court' which was called as bench court then. Those were days when the recovered gambling money (card playing) were handed over to the concerned sub inspector and his team as a commendation by the honarary magistrates.
As a young boy, Rafi used to walk from his Hafispet Street residence to school. He would pass by the famous location which houses Balaji Bakery. School was till 3:45 PM and the kids used to walk back mostly. A school van used to pick up kids who lived far away. However it had to be within the city limits. Rafi used to be present by about 7:45 AM in Fatima and would play on the swing everyday. The ground had been small and it was the swing, see saw and Khokho all the way. It was one boy and one girl per desk. The students had to converse in English and not in any other language. If they did so, a punishment in the form of 'standing out' till lunch awaited them.
"Mary Miss was the strict teacher. We could never see her smile. She used to pin up the 'low marks' answer sheet on the back of the shirt and make the student stand outside for the morning session. We used to get caned by her and students used to fear her. We learnt discipline because of her. On one occasion I had fever, but Mary Miss insisted that I took up the exam by engaging a Jutka. The other teachers were Dorothy, Mary and Vijaya (Hindi). Yes, Hindi was my second language. Plays, skits and dramas connected with Christian values used to the focus in school. I used to take lunch from home and used to be idli or dosa. Mother used to get it done for me," added Rafi Ahmed.
Rafi Ahmed remembers the class first Vijayalakshmi, who was his desk mate. Vijayalakshmi hailed from Palakkad but lived on Mill Road in Coimbatore. She used to teach Rafi and guide him with his home work. Vijayalakshmi had been incharge of the school swings. Rafi used to reach school early in time to play on the swings that would be fixed by Vijayalakshmi. Both of them used to enjoy swinging everyday. Pocket money was not available. Rafi's mother Ummul Ihasan Bibi used to leave some snacks in a cover for him. 50 Paise was a great thing and the kids used to enjoy the Kalkona mittai, commercut, then mittai, thengai burfi, kadalai burfi and elandhai vadai after lunch. This was once in a way and a lady from Kottaimedu used to sell snacks outside the school.The joyful life of Rafi had revolved around his home on Hafispet Street and the schools which played a major role in shaping him.
—Rajesh Govindarajulu