Naturals Lounge in Saibaba Colony has opened its doors with a spectacular outlook and experience. Being an upgraded model under the brand of Naturals, the lounge is equipped with only the best senior stylists and premium products such as Wella XP. They provide facilities from basic haircut, shaving and beard for men to eyebrows, upper lip, waxing, haircuts, keratin treatments, facial, body spa and pani-medi to women. "We are specialists in bridal makeover. We provide two types of makeovers – Kryolan makeover and Mac makeover. Our expert make-up artists provide in house and as well as outdoor facilities for the bride and groom. We also have a separate customized bridal studio with one cutting chair, bed and a compartment to keep their jewellery" says Akila Karthik, Franchisee, who has been thriving in this industry for over a decade.

The lounge has exquisite spa room, shower facilities and a class apart private studio which has no extra charges. Anybody can opt for the private studio which goes by an appointment slot.
Diwali And Membership Offers
As part of their exciting inaugural offer, there is flat 30% off on all their services along with first two months of FREE gold membership cards which can be redeemed at any other Naturals Salons. Adding to this is their Diwali Dhamaka offer – For minimum bill amount of Rs.1500, customers will get Rs.1500 worth service FREE!!
Hygeine And Covid Precautions
The lounge makes it mandatory for every customer to purchase a special PPE kit/safety kit at Rs.50. The kit includes a disposable towel, client apron, service provider apron, gloves, sanitizer sache and mask. This kit ensures safety both to the customer as well as the employee. "Some services definitely require a close contact with the service provider and the customer. And this kit is to boost confidence and social awareness among customers that they need not be worried or scared about any kind of problems during their service. Also, being a single use kit, it is disposable after every service" says Akila.
Social distancing is also ensured in the lounge. The services are provided only by appointments to make sure the employees get enough time between services to spray disinfectant or clean-up with hypochlorite solution for their next customer. Hence, appointment numbers are opened from 9am to 9pm.
From combs to scissors, the lounge uses alcohol swabs every now and then to clean all kinds of equipment's right in front of the clients. Right from pedicure tools to facial bowls, sanitization is practiced. "Even at our reception, we have a UV sterilizer. People don't realize that cash can be one of the major ways for transfer of germs. Hence, when clients pay by cash, we make sure we run them through the UV sterilizer. This also guarantees our employee's safety" added Akila.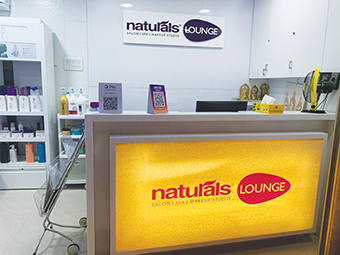 When asked why people should visit a salon after many months of lockdown, Akila opined that only beauty experts can tell something about the skin that people don't know. "Google doesn't know what type of skin you have. Just because you have oil on your nose doesn't mean you have an oily skin. It can be that you have just T-zone oily skin. Also, there may be multiple problems why you have a hair fall. Either its dandruff, scalp problems, frizzy hair or even hormonal imbalance. Hence, our experts here suggest you the right treatment."
Like that faithful cup of coffee, a salon trip can do much more than arch the eyebrows and cover the greys! From a regular hair wash to make-up, a therapeutic manicure and pedicure, it's a ritual which is a treat to the body, mind, and spirit. Walk into Naturals Lounge, Saibaba Colony to experience the best hair and skin nourishment! Naturals Lounge located at 2/1, Raja Rana complex, next to Vijay paradise, opposite to Kasthuri stores, NSR road, Saibaba Colony, Coimbatore – 641011. For appointments contact 9626317999, 0422-4392888, 0422-4392666.
—Grishma Raj