As to the popular adage—A friend in need is a friend indeed, the rural youth need a helping hand to guide them to their better future. No doubt, the youth represent the most dynamic and vibrant segment of the population. Did you know that India is one of the youngest nations in the World, with about 65 per cent of the population being under 35 years of age? Well, today's youth need that trusted partner to help them progress and lead them to success. One such partner is Alayam Welfare Trust. A seed sown in Coimbatore 10 years back, this fruitful well-being organization has now spread its roots across different districts of Tamil Nadu.
Founded in 2011, Alayam Welfare headed by Chairman, Engineer R. Chandrasekar and Director by Dr. Sharmila Chandrasekar works to solve the societal problems of education and employability of women and youth that have been historically left out of the equation. The organization works hand-in hand as a team to carry out projects with an ethical responsibility to give back to the society and also help chart a future of better standard of living and equal opportunity for all.
Changing the face of liberation and education in Tamil Nadu, this non-governmental organization aims to provide job opportunities to everyone by bringing companies for campus recruitment.
With air-conditioned halls to conduct prep-talks, mock group discussions, interviews and pre-placement programs, the trust also aids in boosting the technical and practical knowledge of the students by imparting soft skills and confidence morale.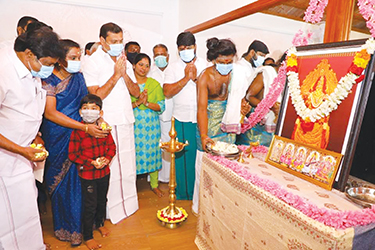 The organization also provides many services ranging from social activities, skill development (healthcare, apparels, ITES, beauty and wellness), community intervention program (fight against pandemic), disaster management (response and recovery management), capacity building (training rural groups) and women empowerment.
Their mission stands strong to help women, children, youth, differently-abled, and marginalized communities.
With various experts from fields such as agriculture, rural development, micro finance, business management and research professionals, the real success of Alayam Welfare trust lies in the simple fact that they have evolved agendas according to the needs of the community, creating awareness among them and making them actively participate.
The tripartite model of Government-NGO-Community has been a win-win situation for all.
With COVID pandemic taking a toll in all our lives and with an aspiration to build a Corona-free nation, the welfare trust under their community programs has also actively distributed PPE face masks for workers in and around Chennai, distributed ration to migrant workers stranded in Tamil Nadu, monitoring isolation and quarantines, provision of "Kabasura Kudineer" for community people, effective temperature screening and health awareness.
To put in a nutshell, Alayam Welfare Trust has raised the importance of building leaders and providing education to those deprived of luxury.
At the same time, stressing the need of an eco-friendly India with the strength of employed youth!
—Grishma Raj