Kovaiites favourite 'Kovai Metro' weekly neighbourhood newspaper is featuring entrepreneurs, who made their business enterprise successful braving all odds. In the first part of its series, Kovai Metro is proud to present entrepreneur-cum-social activist Ritisha Niveda, who made heads turn after being crowned UN brand ambassador and Mrs South Asia title at a glittering beauty pageant event. Kovai Metro scribe Surya Harish finds out Ritisha Niveda's success magic in an interface.
Entrepreneurship to Beauty Pageant
Your Thoughts On United Nations Peagent And Your Experience.
I had registered myself for the event just two months prior and had so much to be prepared as beauty pageants were totally a new thing to me. Still, I was determined to make my country proud and didn't want to give up so soon into the competition.
With over 125 participants from across the globe it was indeed a proud moment to be crowned as the United Nations Ambassador and Mrs. South Asia 2018 title. After several rounds of testing personality and skills through tasks like cooking for school children, painting an orphanage, ramp walks and more this pageant was truly an experience to cherish and an incredibly proud moment to be representing our country in a world platform.
How and why did you become an entrepreneur? Was it something you always intended for yourself?
I still precisely remember the moment I wished to become an entrepreneur. It was on my 13th birthday, when I asked to wish before cutting my birthday cake that I weirdly wished to become a successful self-made entrepreneur. Only in the later years of my life I did realise that I always had this urge to prove myself and test my abilities on how far I could go.
My increasing interest in art made me to design greeting cards and sell at the age of 16! I was always thinking of ways to prove myself through one form or the other. It was this constant push that made me choose my career today as the Founder of Yellow Door, an interior designing company that has steadily developed with clients all over the country.
What motivates you?
I always had this wish to prove myself as a successful entrepreneurs and not just as a successful person's daughter or wife. I wanted to be completely self-made and began my interior design consultation as a freelance from home and slowly developed it to what it is today completely on my own. I take a sense of pride in being self-made and this incredibly motivated me in becoming what I am today.
Apart from this my strongest sense of support and motivation are my mother and my husband who constantly kept reminding me of my talent and capabilities and wanted me to grow more.
Do you believe there is some sort of pattern or formula to becoming a successful entrepreneur?
There is definitely a pattern to be successful. You need to be extremely grounded and be good at balancing your responsiblities to enjoy an overall success. Keeping yourself motivated to grow higher and self discovery are important to become successful.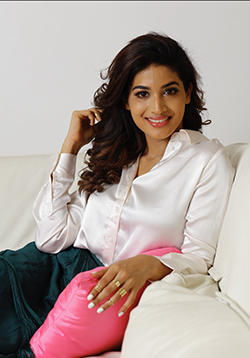 Tell us about your social involvement. What made you to contribute to the society and the beginning of Nila
I have been proactively involving myself in helping women realise their potential and chase their dreams. I strongly believe women only need a little pushsome reassurance that they can do it. That is precisely what Nila is doing. We are helping women realise their potential and connecting dots to enable them to work towards their potential.
We have helped many women find jobs, learn courses, take internships and many more such activities to better their lives.
In your words what is women empowerment and what do you think must be the result in the society
Real women empowerment is not just being financially stable. Women empowerment comes when a woman able to make decisions for herself. Be it big or small she needs to be able to make her own decision and be able to own up to it if it was a mistake.
Women are pillars of the family. Especially in societal setup in a country like India. How do you think a woman should maintain her work-life balance
Time management is the priority. There is nothing that is impossible to achieve in a day with proper planning and consistently working towards keeping up with the plan.
I began my professional career when my children were very little. With proper planning and time management I could attend to all their needs as well as find time for myself for my betterment.
What is your long term goal as an entrepreneur and a social activist
Constantly pushing my limits to where I can reach is my long term entrepreneurial goal.
As for Nila we are building a bigger and better platform to reach more and more women.
What's your biggest piece of advice for budding entrepreneurs?
My biggest piece of advise would be, please don't lose yourself in the journey. Make your passion your profession.
Let your work be a reflection of your inner self. Avoid over stressing on your decision and stick to your instincts.