Arun Gokuldas, The Pride of Coimbatore
Arun Gokuldas was born in 1944 to Maniben and Gokuldas Thulsidas. His father Gokuldas had been a cotton waste pioneer. The members of this noble minded family have donated a maternity home and also built a temple for Lord Sathyanarayana. Arun, the youngest among his brothers did his schooling from Stanes Anglo Indian High School and completed his B.Tech in Textiles from A.C.Tech. He has been associated with Rotary Club of Coimbatore – Texcity and is happily married to Vandana. The couple are blessed with Kavita and Sarita. Arun is a happy grand father. His daughters have given him one grandson and two grand daughters.
The family used to live next to the residence of their family friend P.A.Raju Chettiar on Vysial Street. Later on they moved over to 'Krishna Bhuvan' (Marble Arch) on Thiruvenkataswamy Road in R.S.Puram. Arun and his brothers Suresh and Pratap (Rotary Governor) have been active Rotarians while also continuing the family business founded by their elders. The septuagenarian is a blood donor and has served the society by donating blood 155 times. He encourages people to donate blood and sometimes he is fondly referred to as 'Dracula' or 'Vampire'.
Arun had been to Australia on a scholarship programme when he was about 15 years. It was a Rotary Student Exchange Programme. On learning that his host parents were blood donors, the young Arun wanted to donate blood but he was told that he had to be 18 years of age. 'By the Grace of God I began donating blood from the age of 18. The first time was at Chennai and it was with the Voluntary health Services. I give about 300 cc to 400 cc each time. It depends on the requirement. My wife and children are very supportive. I never see the face of the recipient ever. I just want to help people. I ran five kilometres after donating blood at the age of 60. Have been lucky to go to Kailash Mansarovar in the year 1986 itself and I had to trek about 400 kilometres those days. This happened three weeks after donating my blood. One does not become weak by donating blood. President A.P.J.Abdul Kalam has honoured me by granting an audience. Past President R.Venkataraman gave me an interview at the Raj Bhavan in Ooty and I have met a number of great people including Field Marshal Sam Manekshaw. I had requested the President to send a message on the World Blood Donors Day (June 14) and it has not happened. My family members have donated blood too. The younger daughter has donated her blood twenty times thus far. I wish to be an altruistic donor all my life. Nowadays I wish to visit Lord Krishna at Guruvayoor on every Ekadashi. I want more and more people to donate blood. They will get enormous satisfaction. I am healthy because of the regular blood donations. "Nowadays I do not reveal my age while donating blood for they do not collect blood from elderly people, smiled", Arun Gokuldas with a twinkle in his eye.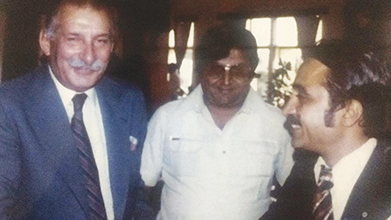 The 75 year old youngster had encouraged his wife to donate blood. "It takes five to seven minutes to donate blood but it takes nearly five hours to receive. One can donate blood once in three months. The donor will always be healthy says the British Medical Journal. I am also called a 'leach' by people who appreciate my initiative. We should donate more blood and save lives. One should do it voluntarily and need not wait for a request. Nobody dies by giving blood but somebody may die for the want of blood. I am not into social service and want to do charity, "added Arun Gokuldas.
We get to learn that in countries that there are countries were women exceed the number of blood donors when compared to men. In Maldives just 0.7% of the women donate blood and the male : female ratio in India is 94:6 and women recipients are 65 %. Arun Gokuldas wants to build up awareness for donating blood among women around International Women's Day. He is ready reckoner on blood donation. He knows how to go about it for he is part of our blood donating heritage.
Arun Gokuldas has been honoured by Mother Theresa, Actor Kamal Hassan, Baba Amte, CRPF (Central Reserve Police Force). He was elected Chairman for Blood Donation Motivation and has pledged his organs to through the Mohan Foundation. He has also willed that his body be handed over to the Medical College Students in aid of their research connected with medicine. Avinashilingam University, Rotary Club of Cairo have honoured him. He received the 'Blood Donors Award' from the Karunya Blood Donors Association. Rotary International President Kalyan Banerjee has honoured him in the past.
The blood donor is a member of a number of organizations which include: Association of Voluntary Blood Donor (West Bengal), Indian Society for Blood Donation & Immunohaematology, National Association for Blind, Bharatiya Vidya Bhavan, Indian Red Cross Society, Integral Yoga Institute, Indian Vegetarian Congress. He is a Member of ISBTI, Association of Voluntary Blood Donor, Patron & Advisor – Karunya Blood Donors Association. The energetic blood donor is the Liaison Officer for the IMA Rotary Blood Bank. He has conducted several blood donation and blood grouping camps over the years.
Arun Gokuldas has been donating blood for more than 50 years. He has attended fourteen conferences pertaining to blood donation and visited China and Egypt for participating in these conferences.
The Indian Society of Blood transfusions and Immuno Haematology had given him a 'Gold Medal' in the year 1992. He was honoured by the District Collector in the year 1990 for having donated blood over 100 times. This took place on a Republic Day. Rotary Texcity had recognized him on his completion of 150 blood donations. Arun Gokuldas eats the healthiest kind of food in order to keep himself good enough to donate blood.
The 'Gaurakshak' feeds cows everyday with 'Agathikeerai'. He purchases them himself from the 'Ulavar Sandhai' on Cowley Brown Road in R.S.Puram.
The marvelous Arun Gokuldas is part of Coimbatore's heritage. This Classic Coimbatorean will be a great motivation for generations to come.
—Rajesh Govindarajulu