A Sportsperson Turned Entrepreneur
Exercising regularly, everyday if possible, is perhaps the single most important thing one can do for their health. From the commercial building in Saibaba Colony, Body Zeal doles out customized recipes for nutrition and health. Calling it a premium fitness studio, Body Zeal has a specialized team that consists of nutritionists, physicalists and certified trainers. The idea is to be "effective and long lasting", as Krish Beethovan, fitness trainer and founder of Body Zeal enthusiastically puts it, "We believe in leading natural lifestyle"
With an aim to provide people with sustainability through fitness regimes, Krish has come a long way from being a sportsman to an individual who believes in nutritious living. Here, he shares with Grishma Raj about Coimbatore's classic fitness gym and his journey as a trainer.
What is Body Zeal all about and what does it offer?
With 8000 sq. feet work out area, Body Zeal is one among the first cross fit studios in Tamil Nadu to facilitate nationwide equipment and tailored programs. Just like the name defines, Body Zeal is about Body, Mind and Soul. We have a variety of fitness lineups that includes focused training in cardio, group fitness, weights training and so on. Ranging from indoor wall climbing, indoor running track, Zumba, Power yoga and Pilates to Step aerobics, Cardio kick boxing /self-defense, Circuit training, exclusive Boot camp and a luxurious steam Sauna.
And for the first time in India, our club is offering Stairs & Slide training, which is a set up similar to the ones in sports stadiums that enables people to work out by climbing the stairs and get down by sliding their way. This equipment helps in weight loss, tightening quadriceps and cardio strengthening. We also have a group steam bath area that rejuvenates your mind and also helps in sweating out the excess fat.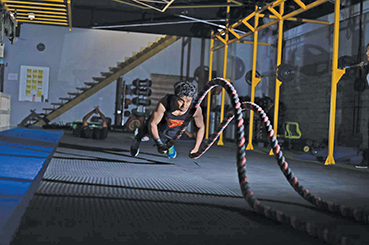 How different is Body Zeal compared to other fitness studios?
One of the unique facts about our studio is that our trainers are all athletes and internationally certified ones. Being a sportsman I understand the day to day challenges a body faces in situations under stress or physical work. My crew of well-educated 27 members who are expert instructors focus on making the customer healthy and happy. Any other gym will have maximum one or two trainers teaching 10 to 20 consumers a day but in our studio, we have all our trainers moving around continuously from one customer to another. Thus, making sure that their service is completed and also helping them with their training personally. We also offer Delight Customer Service in which every client who comes will be exclusively looked after by a supervisor who will examine their activities and make them engaged throughout the day by offering drinks, food or any other requirements. Hence, Body Zeal ensures elite customer service and that makes it different from every other ordinary gym.
What has been your vision?
I feel that general investors who are business minded should not open gym or fitness clubs. People who specialize in training and who understand human physiology should do that. We must understand that gym is not about putting up equipment and asking people to work out, but rather dealing with a person's body and helping him/her embrace themselves and accept them as how they are. Everybody can do transformations but what we aim to do is to take care of their diet and also make them understand the value of food. We focus on 80% diet and 20% work out. So, this has been my vision and that is why Body Zeal is formed.
You are an athlete; can you tell me about your journey into fitness regimen?
I fell in love with sports after receiving a medal in 5th std in school and my father, who was also a football player inspired me to get into sports for a very long time. My mom have also been the biggest support when it came to sports. I have been mad about fitness since then. In 2013, I received the best sportsman award and last year I also received the best fitness icon award. I am also an international athlete and I have run for India at the Asian Games Grand pix 2010. Even though I am a central Government employee, my passion towards sports and fitness never ended. And that made me begin my journey into fitness. What I love about providing work out is that it is a kind of social responsibility that helps people understand that losing weight or building abs is not impossible but something anybody can achieve if they dedicate themselves. And my wife, who being an athlete herself has provided me the utmost encouragement when it came to starting a fitness club and serving people.

Are there any special offers you are providing at Body zeal?
Yes, we have our inaugural offer of Rs.9999 (50%) for our customers. Along with that, we also have Elite Membership discounts that is offered at Rs. 30,000. Those who avail this membership can use all our facilities free including our special lounge area, steam bath for a year along with a free supplement of vitamin C (miracle drink), special discounts on the events and they can take home tracks and t-shirts.
What do you think are the challenges faced by India's fitness industry?
One major problem about our industry is that every random person is a gym guide or Zumba instructor. A person who has attended Zumba for a day is given certificate that he/she is a certified instructor. And that same person begins a Zumba class in a week and starts teaching many other people. This needs to be stopped. Fitness is about proper education and practical training. Rigorous training is required and in our country, that proper education is not being given. That is what needs to be changed. We should be role models to thousands in the country who are out there trying to be fit.
Your tips to youngsters who wish to be fit?
Youngsters have to stop relying on artificial fitness products. Especially, steroids are one of the major issue many of our Indian sportsters are facing. They should stop using steroids because it does not give them the expected results and eventually you get addicted to them and it brings in unhealthy and harmful lifestyle. Youngsters should adapt natural ways of losing weight or staying energetic. Staying fit is not about dieting or quitting to have food but eating what is healthy. I would advise everybody to practice what is natural and healthy. Contact 9047561321, 9943701321.