The book 1000 Great Lives by Plantagenet Somerset Fry (1931 – 1996) had been a best seller. Very few Indians were featured in the book. The author was a British Historian who had taken part in a television game show in order to raise money. He won 512 Pounds and this made him well known.
The Historian wrote about 50 books and the book 'Biography of Elizabeth I' was the beginning of his successful career as a writer. He wrote history for adults and children. The Council of Independent Archaeology was started by him. His work 'The Zebra Book of Famous Women' is popular.
However the book '1000 Great Lives' is centered on the assimilation done by a person living in England and no wonder very few Indians are listed in it. One cannot blame the author for his very western outlook.
It was upto the people of the respective countries to write their histories. History is to be recorded in an unbiased manner. It should be free from ideological prejudices. Many countries around the world have coloured their 'Historical research' and have also refused to update the analysis based on later day discoveries. It is high time that the subject is freed from this kind of dogma and prejudice.
Let us look at the list of people who played an important role in the society those days. The first decade after independence was important and changes were taking place. Many of the participants just faded away for no fault of theirs.
An economy designed on the basis of imported ideology crushed commercial freedom. Liberty was restricted to speech and nothing else. Most of these citizens had done their best for the country and the region. It is time that some of their profiles are given a visit by us.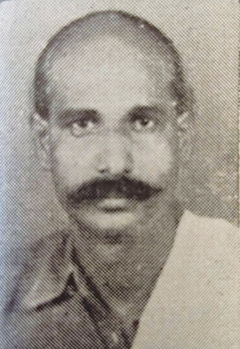 Agriculturist A.M.Appachi Gounder (born – 1916) was a Member of the Coimbatore District Board, President – Panchayat Board: Appachigoundenpathy. He lived in Appachigoundenpadhy, Pichanoor Post (via), Madukkarai.
V.V.Kalisamy Gounder (son of V.C.Vellingiri Gounder Born 1917) was another popular son of the
region. He was a Director – Thondamuthur Trading Company, Agro Industries (Podanur), New Hindustan Oil Mills, Gnanambikai Mills among many others.
He belonged to the Vellakinar family. Kalisamy Gounder was a trustee of the Sai Baba Temple and also Sevashram for some years.
V.C.Palaniswamy Gounder was a great son of Coimbatore. He was the District Congress President in 1951 – 52. V.C.P was the Minister for Prohibition and Animal Husbandry, Government of Madras (1952 – 1954). He was keen in land cultivation.
V.C.P was associated with Gnanambikai Mills Limited. This space is too small to make a note and his work should be chronicled as a book.

V.C.Subbiah Gounder was the Managing Partner, Gnanambikai Mills Limited. He was the President of Sanmarga Sangam and also District Agriculturists Association. The Landlord was greatly interested in the Scout Movement.
V.P.Kandaswami Gounder (born: 1914), was the son of V.C.Palaniswamy Gounder and he lived in Semmedu. He was greatly interested in hunting. Philanthropy was part of his nature and he helped many a social cause.
—Rajesh Govindarajulu
(To be continued)