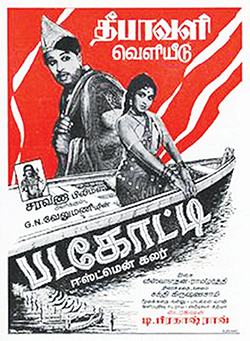 The celebration of festival of lights is incomplete without new movies. This has been the case right from MK Thiagaraja Bhagavathar's period to MGR and Sivaji Ganesan while not speak of Rajnikanth, Kamal Haasan, Ajith, Surya and Vijay. Cinegoers' make it a point to reserve tickets well advance for their favourite stars movies during Deepavali festivity.
In a quick rewind, MGR's 1964 Deepavali release blockbuster movie Padagoti made a record of the sorts as it ran to packed houses across the theatres in Tamil Nadu, Sri Lanka and Malaysia. The movie directed by T. Prakash Rao and produced by G. N. Velumani brought to the fore the problems faced by fishermen community. And B. Saroja Devi paired with MGR while M. N. Nambiar, S. V. Ramadoss, Nagesh, Manorama and Jayanthi did the supporting roles. The story revolves around two fishing communities in a village where there is an enmity between them and village's zamindar blows the issue out of proportion to gain out of it.

Padagotti's screenplay was written by Sakthi T. K. Krishnasamy, based on an original story by Nannu and cinematography was handled by P. L. Roy, while editing was handled by C. P. Jambulingam. The film was shot predominantly on locations near the seashore. It was released on 3 November 1964, during that year's Diwali day. Despite facing competition from other films released on the same day, Padagotti became a commercial success and ran for over 100 days in theatres.

Likewise, MGR's Nadodi Mannan was released on Deepavali festival in Singapore and Malaysia wherein theatres were jam-packed in all the theatres where it was screened then. It may be noted that both MGR and Sivaji's movies vied with each other during Deepavali releases. And MGR movies were screened in two theatres in Coimbatore with one single print. Autos used to shunt between theatres with the film rolls. The movies used to be screened in half and hour gap between the two theatres.
Sivaji Ganesan's Sivandha Mann is a 1969 film written, produced and directed by C. V. Sridhar and released on November 9, 1969 (Deepavali). The movie was released at Coimbatore Royal Theatre. Star cast include Kanchana and M. N. Nambiar in the lead roles, while other actors like R. Muthuraman, Nagesh and S. V. Ranga Rao play supporting roles. It revolves around an Inspector General's son and a princess who rebel against the tyrannical ruler of their region. Most of the scenes were picturised in upcountry. Interestingly, Sivanthamann was the first Tamil film to be shot extensively in locations outside India; shooting locations included Switzerland, France and the Alps.
Ooty Varai Uravu is a 1967 film with Sivaji Ganesan, R. Muthuraman, K.R. Vijaya and L. Vijaylakshmi in the lead roles. It was directed by C. V. Sridhar. The film was L. Vijaylakshmi's last film before her marriage. The film was remade in Telugu as Sri Ranga Neethulu in 1983. It turned out to be a super hit movie released during Deepavali.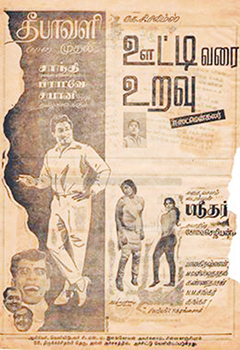 Actor Sivaji Ganesan's two films Engirondha Vandhaal (a remake of the Hindi film Khilona) and Sorgam were released during Deepavali. Both became silver jubilee hits. The song 'Ponmagal Vandhal' from Sorgam became hugely popular. The song makes a re-entry as in a remix in Vijay's film Azhagiya Tamil Magan, that has music by A.R. Rahman. Oldtimers still recall the golden days of cinema when there were no other entertainment except movies. And words cannot express the amount of craze and joy yesteryear cinegoers' had for MGR and Sivaji movies during Deepavali release.
—SHEFA RAFI