Local Newspapers Turn Residents Favourite
Kovai Metro is a little over five years of age. I remember my friend senior journalist M.Rafi Ahmed talking about it and thereafter the paper used to come home every Sunday. Week after week, it came out with interesting info with happenings around the city. Despite a local newspaper, it had a global reach for its info-packed edition. Most of us were fed up with crime and scandal reporting of the opinionated kind. And neighbourhood newspaper came as a blessing in disguise giving much relief to Coimbatore residents, who are as well ardent readers.
Interestingly, the neighbourhood weekly newspaper Kovai Metro was a welcome break and it came absolutely free of cost. Rafi Ahmed dropped by one day and wanted to know if I could write for the publication. I readily agreed for reading Kovai Metro had become a habit for me. Kovai Metro's snippets on temples, medicine, shopping, nature cure and columns on business etc., make it interesting. The success of Kovai Metro has made me ponder over some points connected with such publications. Let us take a peep into the past and look into the stories connected with some of the earlier publications from Coimbatore.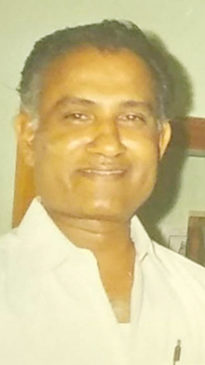 Advocate Ramamurthy was associated with 'Membalam' and he was also doing a lot of work with the S.P.Narasimhalu Naidu Trust as its Secretary for decades. He was the Editor and used to write about burning civic issues. Interviews were also his forte. The interviews with Mother Theresa, Sam Manekshaw, Justice M.M.Ismail, Justice Veeraswamy, Veerendra Hegde of Dharmasthala, Prof G.R.Damodaran were popular. Membalam was printed in Kalanidhi Achagam. This had originally been founded by S.P.Narasimhalu Naidu. Ramamurthy revived it under the same name. The Sub Editor of Membalam was one Damodaran and he was the man Friday of Ramamurthy (1933 – 1993). The right hand man Damodaran would understand the mind of Ramamurthy and act accordingly.
"He used to discover a new thing and would confidently put it to my father. My father used to just absorb it. Damodaran knew my father's mind very well and it was very useful for Membalam, "stated Radhika, the daughter of Ramamurthy.
Siruvani Mail was yet another wonderful newspaper. It was published due to the efforts of R.Venkatesh Babu of the Annapoorna Family. The paper was well received. It promoted a number of local events. INTACH (Indian National Trust for Art and Cultural Heritage) conducted a heritage food contest in the Purandaradasar Hall about 17 years ago under the captainship of Ila Kikani. The event was a grand success because of the support from Siruvani Mail. Over 100 participants performed exceedingly well. In fact it prompted Annapoorna K.Damodaraswamy Naidu to offer a counter to such ladies who could make traditional food in his family outlets. The winners were given the titles 'Paakanipunashri (Male) and Paakanipunavathishri (female). These titles were given under the guidance of the priests of the Sharadhambal Temple (Sringeri) in Race Course.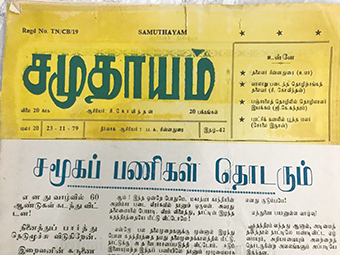 Samudhayam in Tamil was published by P.S.Chinnadurai an MLA from the Praja Socialist Party. "George Fernandes stayed in our house during the Emergency, "smiled Eshwar Chandran, the son of P.S.Chinnadurai. The publication spoke for the working class of the society. Namadhu India, Nava India, Kaithari, Vasantham and City News were some of the old publications. "Kuppuraj of City News" was a well known personality in town. He would write about the Rotary Clubs, Lions Clubs and Jaycees in City News.
He would be seen in all the meetings and was well connected. Everyone in town knew him. Kuppuraj was a people friendly person and he had a good coordination with the clubs. His voluntary actions earned him a lot of goodwill and this helped the publication get a lot of advertisements. City News was going on in the seventies and eighties of the last century.
Kovai Seithi by G.M.Swamy of Gopalapuram was another local paper. Technocrat entrepreneur G.Muruganathaswamy (G.M.Swamy) was the founder. He had carried out a story about the doyen of Indian South Indian industry, R.Venkataswamy Naidu in one of his issues. A lot of rare information was published by him. Cheran Times was edited and published by Mohan Kanagakumar (former Deputy News Editor, The New Indian Express, Coimbatore edition).
The efforts of The Kovai Times and its Founder Kannan Venkatasubramanian are laudable. He was a product of G.R.G Matriculation Higher Secondary School. "We wanted to publish a do gooder fortnightly free of cost on the lines of publications like Adyar Times. This led us to come out with 'The Kovai Times'. It went on for nearly three years. The publication was registered. The Kovai Times was given free of cost to the readers and we had a print run of about 15,000 copies. Advertisements were the only source of revenue. The Kovai Times was ever welcome in all the school events. We consciously decided not to carry negative news. Only good and positive news were published by us, "stated Kannan, who is a textile entrepreneur these days.
The Kovai Times carried out an interview with Vanitha Mohan of Siruthuli. Advocate C.G.Kumar used to provide answers for legal queries. Eminent Author & Poetess Shobhana Kumar was a regular contributor. Dr.Manickaraj (Paediatrician) used to clear the doubts of the readers. If he did not receive questions, he would use the inputs from his clinic. Dr.Chandrashekhar of G.Kuppuswamy Naidu Memorial Hospital was another panellist who used to clear doubts connected with medicine. The paper was distributed in Sai Baba Colony, Ramnagar, R.S.Puram and Ramanathapuram. There were a number of readers in PARSN Nanjundapuram. "People used to call us up in order to receive the paper. It would have not been delivered that day. We had boys who were paid Rs.100 per week per area to distribute the paper regularly. The Real estate Guide published by us helped us financially. In fact we were given a free stall in Build Expo those days. It was a memorable experience," added Kannan Venkatasubramaniam, the Founder of The Kovai Times.
Times have changed today. A website, a face book page, twitter, instagram, a link to the articles and a print copy are in the offer. Kovai Metro is available as a tabloid and can be read in all of the above platforms.
The paper is free for the readers. One can see the paper boys dutifully delivering the paper in different parts of Coimbatore. Advocate Venkatasubramaniam, Dr.J.Sanath Kumar, Santhalalakshmi Ramraj are some of the elders among the regular readers who savour the weekly newspaper 'KOVAI METRO'.
Rajesh Govindarajulu
Historian and Columnist