As the summer has set in, people are sweating out to get a relief from the sweltering heat. Quite naturally, everyone is looking to blow off some steam – ice creams as a perfect getaway.
And the outlet was inaugurated by K P Ramasamy, Chairman, KPR group of companies by lighting traditional lamp. From Caramel to Pineapple and everything in between, all the whimsical flavours in an ice cream. There are no right or wrong flavours out there and Amadora just about proves it.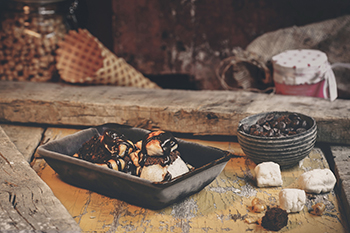 From the simple flavours like Chocolate, Vanilla, coffee to zesty experimental flavours like Fresh Lime, Caramelized White Chocolate, Amadora provides a palette of drool-worthy ice cream flavours! With over a dozen of inimitable gourmet ice creams, Amadora is a one-of-a-kind ice cream parlour that has become a go-to destination for anyone with a sweet tooth! Sounds like a fantasy? That's what I thought and so I went to give it a shot. Welcomed with ecstatic energy I was introduced to the plethora of flavours! Being an overzealous ice cream lover, I became euphoric. The Caramelized White Chocolate, the Lemon Ice cream and the Salted Butter Caramel are a few amongst the lot I would swear my life by. When science and passion come together the result is an array of flavours that tease your taste buds.
A home-grown gourmet ice cream brand, Amadora was started in Chennai by Deepak Suresh to beat the unbearable heat, it was indeed the right cure. Finally making its way to Coimbatore, I personally have found my kryptonite to beat the Summer heat! Aadhith Kalairaj was persistent to bring the brand down to Coimbatore with the sole purpose of providing the people of Coimbatore with the best gourmet ice cream and unconventional flavours he has ever tasted. What makes this franchise unique? It's run by his wife Vasantha Raju because who knows to run a business better than a woman. With outlets in Chennai and Bangalore, it is one of the recognizable brands to enter the streets of Coimbatore.

Amadora also offers a variety of cakes, the Under baked being in the spotlight. On the surface, this might just look like your standard run off the mill cake. But to me, the Underbaked is what makes me go weak in the knees. No matter what you try, the oh-so-famous underbaked is a must have at Amadora! For those of you who haven't had the chance, here's a brief breakdown of this heavenly dish.
The under baked has an indulgently gooey texture, complimenting the Malted milk Ice Cream which has a subtle taste of milk chocolates topped with almond bits and chocolate sauce – definitely hitting all the right notes. Or slap a scoop of caramelized White Chocolate ice cream along with the underbaked for the perfect dessert, the possibilities are truly endless. Also offering other unique cake varieties like the Ghee Cake, A cup, Chocolate crisp, The Zouk and their 5 been Vanilla and Raspberry cake, Amadora definitely makes you crave for more.
Curating unparallel quality and variety of desserts, they aim to capture the heart of every Coimbatorian. There's really something for everyone here.
Tempting enough? What are you waiting for! Amadora is the place to be! Head to the outlet at 167/124 Race Course Coimbatore. Behind Nuts and Spices. For more info, ring 0422-2221299.