In a bid to create awareness on educating girls, students of Vidhya Niketan School – Arhha, Gehna, Rifaah and Farhaan jointly with event partner Pooja Davda organised a walkathon in the city.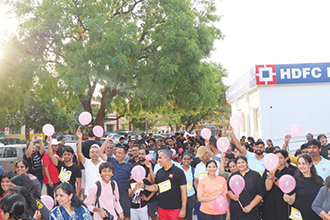 The proceeds of the event will be utilised towards underprivileged girl child education. Interestingly, the girls got the support for the event from sponsors like SBI Bank, Aspire to Inspire, Khubsoorthi, Ahuja, Chandras, Spreading smiles across miles, Upbeat etc.
More than 150 people participated at the event. The participants walked the Racecourse holding pink balloons which symbolise girl child. DGM,State Bank of India inaugurated the rally followed by Zumba session by Shabhna for a warm up session. And the mini marathon had two rounds at race course covering 5 km while breakfast was offered after the event.
According to organisors, the amount realised from this event will be deposited directly to the school or college for underprivileged girls education. A part of the proceedings will be also donated to CRY Foundation for the same purpose.