Where mother's passion turned into a profession for newgen. Yes, Saraswathi Gunasekaran, whose passion for designing traditional costume for her ultimately became a business in designing silk sarees. Stepping into her shoes, her daughter G S Nithya is now an acclaimed bridal saree designer.

As to the saying– Like mother, Like daughter, Nithya learnt the nuances from her mom to create a niche for herself in turning a bridal attire designer. And now it has grown into a big family business wherein they own 48 looms in Kanchipuram, Salem and Sirumugai.
Saraswathi Gunasekaran developed an interest in sketching costume designs for her at the prime age of 10. This later turned out to become a family business. Weavers with over 30 years experience are working at their weaving units weaving with 120 counts of non mixing silk threads.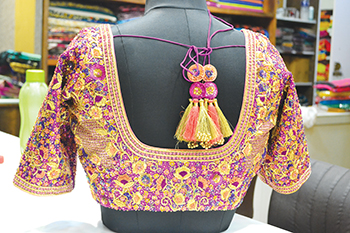 Nithya was also had similar interest in designing like her mother. It takes 20 to 25 days to weave a perfect Bridal silk Saree's which is mixture of sentiments and emotions of the weavers said G. Saravanan, son of Saraswathi Gunasekaran who takes care of overall exports along with his wife Swathi Saravanan. She also designs a perfect fit bridal blouse for the bride along with Nithya. The cost of the bridal Saree's starts from 12,000 and it extends up-to 1,00,000. The tailors are experienced of 35 years.The team had designed more than 65 bridal Sarees so far.
The boutique is not only specialized in designing silk Saree but also specialized in designing, cotton Saree's, silk cotton Saree's, Lehangas, wedding frocks and pavada sattai. Handloom silks and kanchipuram korvai silk is their speciality. And they also serve for whole sale orders and exports. People can find economically ranged silk Saree's @ Yuga Silks.The team also provides uniform Sarees, Dance costumes. For more details contact 8870701099.
—Sruthi Bala