The average woman spends 11 minutes a day putting on makeup. And there are reasons why you shouldn't feel guilty for a single second of that. Make up and beauty is all about spreading the need of body positivity and making oneself feel good about themselves. And that is just what these two budding and extraordinary stylists – Steffhy and Supriya from our own Kovai believes in. From converting their passion into business, these young stylists have created a niche for themselves in the industry of fashion and beauty. Here, they have share their experiences and journey with Grishma Raj.
Steffhy Merwin
How did your journey begin and what influenced you to be a make-up stylist?
I always had an interest towards fashion but I never gave make up a thought. Like any other family, my parents wanted me to do my major studies. It was around that time, one of my friends who was undergoing a make-up artistry course in London took a make-up trial on me and I tripped into it hard. I convinced my parents to send me to London to learn the art of make-up. I completed my Professional make up artistry course and took a hair styling course from Mumbai. Along with that, I did some workshops in Mumbai, Bangalore and couple of projects in London. When I returned to Coimbatore at the age of 21, there wasn't much happening in make up industry. Due to social media platforms like Facebook and Instagram, I was able to connect to fellow make-up artists and influencers which helped me promote my minimalistic style make up in Coimbatore. I did my own make up for my wedding and people who saw me on social media or in real started enquiring about the way I did my makeup. I was pleasantly shocked and inspired when people turned up to me asking if I can do make up for them similar to how I did it. I am now in an age bracket where my friends are getting married and social media helped me a lot in establishing my line of work and getting clientele.
What are the challenges that you face being in make-up industry?
Odd timings were my biggest problem. I used to undertake bridal make up, so if the Muhurtam is at 5 am then we have to start at 2 am. So, to adjust to those timings were a problem but gradually with my very supportive family, I was able to overcome it. And also, initially when I started, people around me discouraged me to continue in the area. But after I achieved a little, I decided to ignore and stick to what I love.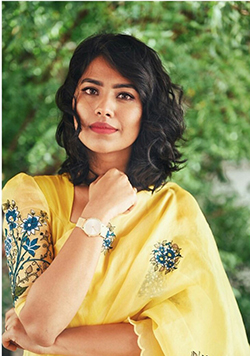 What are your view on Indian fashion industry trends?
Though the industry started a long time back with pioneers in Hollywood, it has now transitioned to India. Things are very progressive right now in India than how they were about five years ago. Glamour is trickling right into the lives of Indian societies, people are fashion conscious now and are constantly posting pictures on social media. With this much attention to self-grooming and a growing need to look good; fashion and make up industry is only going to grow and strengthen further.
Which products do you think consumers must use to improve their make up game?
I mostly use products from abroad, which are still just foraying into India.According to me, Skin care is the most important aspect. I always suggest my clients to consult a dermatologist or make-up artists to understand how to keep their skin healthy and flawless. Without good skin care, daily glow and good make up is not possible. Nowadays, brands like nykka are doing a good job of creating awareness amongst people about skin care.
Whats in store for your future from here, perhaps movie make-up artist?
I really like teaching, I am very passionate about fashion industry. Even though I want to continue doing this, I also want to try more into fashion designing. Movies are really difficult, strenuous and complicated. It requires a lot of time, attention and dedication. Currently, I am at that phase of life where I cannot carve out such a huge amount of time from my already busy family life.
HIGHLIGHTS:
We all stumble before we stand tall – A memorable / funny moment from your earlier days:
Fortunately, I have never let down my clients but I have not been so forgiving to myself. For this one appointment, I was engrossed into work and there were a lot of people in the room. I was so distracted due the commotion that I held up the ironing rod upside down. My mother yelled at my direction and I got burns on my hand. But I picked myself up and I used ice cubes to compose myself to carry on doing make up. It's one of funniest yet worst experiences for me.
The part of makeup portfolio you like the most:
I prefer eye make up for the fact that it leaves the maximum impact. But I also find hair stylingreally interesting.
These days hair styling is getting very competitive and I love to experimenting. I feel that Make up artistry and hair styling are like cooking, the more you practice the more you understand the nuances and get better at it.
Can you tell us the time taken for a routine :
Right now, I am only into freelancing via social media – Facebook and Instagram.
I have done make-up and hair styling for over 300 weddings. On an average, it takes about 3 hours for the hair styling, make up and making sure the bride is comfortable and calm on her big day. For more details, contact steffhairandmakeup Instagram page.
Supriya Manokaran
How did your journey begin and what was the driving force behind it?
My mother is an experienced beautician, I attribute my drive for styling and make up to my mother. I wanted to make my mother proud by properly learning the craft and excelling in it. I believe in continuous learning and used to take courses from MAC and other make up brands while working to hone up my skills. I am a fashion technology student with 12 years of experience, it so happened that my clients and friends started noticing my style and flair. Few of them started asking me to style them too, so it kind of made sense for me to foray into the field and try it out. Me and my close friend Anitha Krishnan started the Nadiya Studio, 5 years back in Coimbatore.
Currently, Nadiya designs co-exists with Makeovers by Supriya in a single floor at an office just behind Omni bus stand in Coimbatore city. Clients who come enquiring for Nadiya studios also check out makeovers by Supriya and most of our clients prefer that we take care of their complete transformation. We understand our clients body type, their styling and take care of it for all their big occasions. It's currently doing really well!
With bevy of makeup tutorial videos, can you point out some of the challenges you face in the industry?
The most basic challenge I face is with everyone's understanding of the concept of makeup. I have had many clients, specially brides to be walk in asking for minimal make up or light make up. I just want to address this saying that there's no concept called minimal or light make up, it's just about maintaining you skin tone while applying makeup. Minimal or light make up concept means that you have to look yourself while make up is applied on you. Another major pet peeve that I have is when clients ask to be made up two tones fairer than they are. I never prescribe this to my clients as it can end up being problematic for them as well as us.
There is also a common lack of clarity between a beautician's work and a makeup artists work. A beautician basically cakes up client's skin flaws with lots of layers, but a makeup artist understands how products match against skin types and determines what product to use, how to use it and blend to achieve best results for the client.
What type of brands are good and surviving in the industry?
When I started it, industry used to be all about MAC and Bobbi Brown. Now, many other players have come into the field. One of the strongest contenders is HUDA beauty which offers a range for products for different complexions. Unlike older products, a single HUDA beauty product covers all discoloration on the skin. So, constant evolution is the key to success in this industry.
How do you stylize yourself and what are your tips for make up on Indian skin tone?
I personally prefer to look clean with just some moisturizer, sun screen and kajal when I go out. My mother always tells me to rub in two drops of castor oil and gingelly oil to maintain make my skin healthy. I put on makeup and emphasize on styling only when I have to meet clients. I ask my clients to preferably not apply any make up while they come to meet me so that I can properly assess and plan their routine.
What lies ahead in your journey, what are your future plans?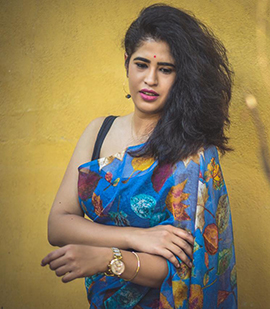 My wish is that people learn proper techniques for e.g. people should know how to work on various skin types, how to choose products, how to evolve make up. I want people to learn all that and attend master classes with eminent makeup artists. I also believe that only when you can put an eye liner understanding your own eye shape, nose shape and facial aesthetics that you can actually help others. In future, I imagine an academy to guide potential make up artists to find their path.
Your inspiration?
I have seen my mother's journey, she used to travel with the bride stay over and come back the next day all for a charge of Rs 5000 or Rs 6000. I have seen her struggle and not get the credit she deserved. So, for one of my assignments, I took her as makeup artist to the event. There was a 5-star hotel booked and we had people at us dispense for our tasks. My mom was very surprised on how far her daughter had come and she was very proud of me. I still cherish that moment with her.
HIGHLIGHTS
We all stumble before we stand tall – A memorable / funny moment from your earlier days:
This was a few years ago when I was working as team head for one of the companies. One of the clients had specifically asked for me to be her make up artists. I was very inspired to do some great make up for her as she had specially requested for me. But to my horror, her hair was scamp and difficult to work with. To make matters more difficult, the client handed me a photo of actress Nayathara as a reference. I was totally blanked out and at my wits end. I explained to her very clearly that this task is next to impossible, but I will use all my strength to make it happen. With my mother's help and her experience, we added puffs, artificial placeholders to achieve the impossible. I take pride in the fact that she did look good on her big day.
The part of makeup portfolio you like the most:
I personally like hair styling. I understand that for most people, Eye makeup can be more dramatic. But applying eye shadows in different shades don't make big difference. Only a properly done eye liner makes the major difference. I do think that everything is packaged properly only by hair, so I like experimenting with it.
Can you tell us the time taken for a routine :
It takes about 2 hours for makeup and 2 hours for hair. Currently, we provide a basic session which includes HD make up, complete styling for the event, nutritional consultation, bridal consultation and my travel. We also get and fulfill requests for additional help like picking up bridal saree, jewels etc.
The packages that you offer?
The charges for the basic package is 20 K per session for events with in Coimbatore and Tirupur. For out station events, its 25 K per session and stay provided by clients.