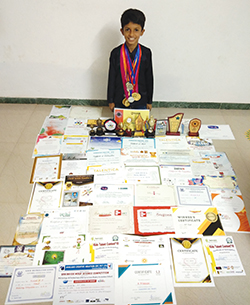 Making his KMM Matriculation school proud is RP Krish, a fifth class student, who entered the Kalams Book of Records for his feat which included drawing for 8 hours on social awareness themes besides creating awareness to end child abuse, zero hunger, hunger free nation, save trees, stop using plastic, stop pollution, save water, save energy.
In a step further, the boy used waste items to make cycle flower vase and lampshade.
Indeed he made his parents-Perumal and Revathi proud. And he was honoured by the school management for his creative effort.
He has to his credit medals, certificates and awards for his stage performances.