The Department of Printing Technology, School of Engineering, Avinashilingam Institute, Coimbatore, organized a 3-day student workshop on Recent Trends in Offset Technology from Jan 22 to 24. During the inauguration at School of Engineering, Avinashilingam Institute Campus II, the Director, Dr.K.N.RajaRao and Dean, Dr.S.Maragatham of School of Engineering, "click-started" the live streaming of the inaugural function. Although the department organises two to three student workshops every year, this is the first time, the sessions are live streamed.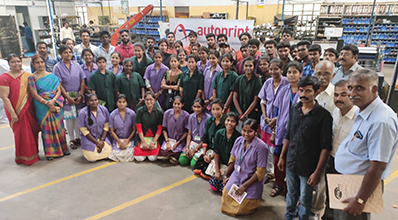 Multi-disciplinary participants: The 60 participants of the workshop included students of M.A Mass communication and Diploma in Mechanical and Electrical Engineering, apart from Printing Technology.
In his addres, Director, Dr.K.N.Raja Rao mentioned that offset printing is a matured technology that is still evolving with the advancements in digital and electronic developments. He insisted that the students be fully involved during the sessions, to learn the technology and to link it to their respective curriculum.
Dean, S.Maragatham appreciated the external participants for having chosen to take part in this workshop that is being organised by a department whose B.E Programme accredited by NBA under Tier 1 for three years. She said that the department being well-known for skill-oriented teaching methods has planned this workshop with intensive hands-on sessions.

Dr. TKS Lakshmi Priya, Head, Department of Printing Technology said the objective of the workshop was to emphasise the importance of offset technology and bring out the differences between products printed using Offset technology versus those printed with other technologies. As a result, students from non-printing background will be able to better relate their core discipline with Printing Technology, when they are on the job. In fact, the 12 participants from Polytechnic were already campus-placed in Printing/Packaging Industries and had come to get a holistic idea about printing.
R.Senthilkanth, Plant Head-South Zone, The Hindu detailed about offset technologies – both sheet-fed and web, touching up to aspects of components, operations, quality and maintenance. Dr. A.Arulmozhi, Associate Professor of the Department explained practical aspects operating offset machines, use of inks, chemicals, blankets and paper.