As part of 'World Food Day', BNI Admirals, the Business Networking International (BNI), the global networking organization which provides a structured and supportive system of giving and receiving business organised for a function to honour first, second and third generation giants in food industry in the city.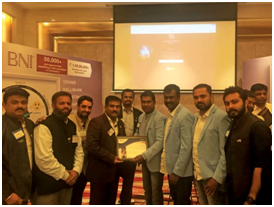 Following which, BNI Admirals recognised Jegan Damodarasamy, director, Sree Annapoorna Sree Gowrishankar, Senthil Natarajan, director, Kovai Pazhamudhir, Vaishnavi Krishnan, director, Sri Krishna Sweets, Murali, director, A1 Chips, R Balachandar, director, Sri Haribhavan, Prince and Deepak, directors, KR Bakes, R Ravi, director, Sri Lakshmi  Grinders, A R Balasundram, director Rengas Department Stores.
As for BNI, it helps its members increase their business through positive and professional "word-of-mouth" program that enables them to develop long-term, meaningful relationships with quality business professionals. BNI Admirals is the first chapter in Coimbatore region and is the showcasing chapter for other chapters from Erode, Salem. The chapter which started with 33 members on January 29, 2013, by few business professionals has now a whopping 86 strong Business Entrepreneurs members from different domains and 200 Business Entrepreneurs. BNI is one of the worlds largest referral organisation. It was founded in 1985 by IVAN MISNER.
BNI Admirals is having it's 300th meeting on October 30 (Tuesday) at Hotel Residency  Towers,  Coimbatore. Call to register 98422 41676