To succeed in life, make use of 'AAA', senior journalist M Rafi Ahmed told the students of Dhaanish Ahmed Institute of Technology (DAIT) during the sixth annual day celebrations held at the college premises located in the outskirts of the city.
Elaborating on 'AAA' concept, he told students that it denotes–Attitude, Aptitude and Altitude which means they should develop positive attitude towards a domain they are interested while they must possess necessary skill or talent to execute it. If one is able to follow these two As, definitely they will reach great heights that is altitude.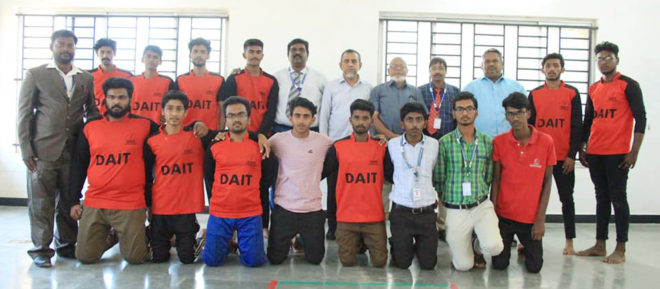 Success never comes overnight, he said adding that they need to put in smartwork instead of hardwork to taste success after successive failures. There are umpteen youngsters, who after putting a brave face following failures reached exalted heights in their line of interest.
In this connection, he referred few successful youngsters like actor Siva Karthikeyan, who despite being an BE, MBA made an acting as his mimicry talent came in handy while Dr VijayaKarthikeyan, an MBBS cracked civil services to become sub collector at the age of 26. Interestingly, he was the youngest Commissioner for Coimbatore Corporation and HR personnel Sivakumar Palaniappan also a BE quit his job after a decade experience to start his own personality development outfit. Likewise, Padmanabhan Gopalan, a BE from GCT is going places with 'No food waste' concept to get the coveted UK 'Youth award' for Asia region.
Pointing out that there is plethora of jobs, he told students to develop their skill and make themselves employable meeting the needs of industry. 'Seize the opportunity that come your way, develop and become an achiever', he urged the students.
K Akbar Basha, director, DAIT said that the minority Muslim institution was founded by Alhaj K Moosa with a vision to offer quality education at affordable cost and it is a great pride that DAIT had cent percent placement with grads working in top corporates. A Abdul Hakkim, PR secretary, Jamaat-e-Islami Hind told students to enhance their talents in different spheres. Earlier, DAIT principal Dr K G Parthiban welcomed and presented the report.
Display of fencing sport by UG student Benachir, screening of short film on blood donation enthralled the audience. Others who were present included Prof J K Mohan Kumar, K Manigandan, Director of Physical Education and Dr C Selvamurugan.