As part of nation wide 'Fit India Movement', the students of Avinashilingam Institute for Home Science and Higher Education for Women at the college premises.
Noteworthy to mention that its the need of the hour to create awareness among the people on the need to live a healthy life, educational institutions and organisations spread across the country have been conducting Fit India Movement solely to encourage people on physical activity and sports in their daily lives. It emphasizes on the importance of fitness and calls for a strict control on the current lifestyles of people by changing their mindsets on physical fitness.
Moreover, this nation wide movement is considered as the best initiative taken on the eve of National Sports Day. All Universities across the nation led the Fit India Movement under the guidelines of UGC This explains that beyond a word fitness is a mandatory condition for healthy and prosperous life.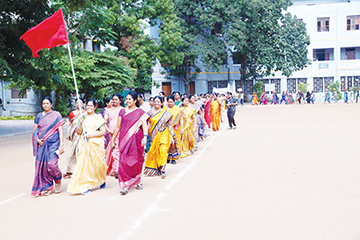 The students, teaching and non teaching faculty members carried forward this campaign. They crafted Fit India caps in orange, white and green resembling the National flag. They gathered at the ground around and briskly walked 8 rounds covering a distance of 10000 steps without a drop in their enthusiasm. Among teaching faculties Dr.R. Radha (NSS Programme Officer) and Dr.S.Subashini covered 10,000 steps first. They also called out catchy powerful fitness slogans like Fit India Be Strong, Fit India Walk Daily and Be fit, build healthy future during the rally.
It was indeed a new experience for students and staff as it was conducted with positive vibes. Fitness and success are interlinked. It also brings about efficiency. Spontaneous physical exertion, fitness and exercise must be prioritized as they can be the game changers to prevent lifestyle disorders.
Everyone winded up with the confidence of being fit and the motivation to stay fit.