Odyssey Store in Coimbatore with a wide range of books, stationery, art supplies and toys, organised an exclusive event to honour novelist Rajesh Kumar. A native of Coimbatore, he did the city proud with his work that had Tamilians worldwide become his ardent fans. The event witnessed the reminiscence of the glorious years of writing. He was awarded "Ezhuthu Surabhi" for his continuously published works over the years.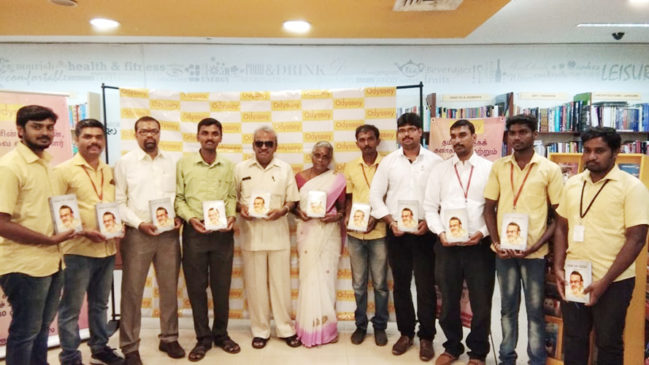 Vivek and Roobala have been the favourite combo of many Tamil thriller novel readers for over a generation. Rajesh Kumar is one of the most popular authors in Tamil fiction, a recipient of the prestigious Kalaimamani award and is rightly called the king of pulp fiction for having produced a record number of novels. He was the first person to come with the concept of pocket-sized novels that made it convenient for a lot of people to carry it around with them to read it anywhere in their spare time.
His novels were a suspense thriller with an ample dose of science and technology that awes and excites the reader. He proudly expressed, "I believe my success as an author for so many years was possible only because I had the most women readers. They believed in my books as they can be assured that will be no vulgarity or indecency of any form". He also went on to add that it was made possible only because of his wife who is his first fan and critic who censors all his stories to make sure the content is apt for all audience. Many of his fans were present there to get a glimpse of their favourite author and was only overjoyed to be able to interact with him. One of his fans quipped saying that he began reading his novels when he was 15 years old and currently his son who is over 15 years of age is also reading his books with the same enthusiasm and excitement.
The author had successfully published that many books that there are two generations of readers who are reading his novels with interest.
Apart from thriller novels, Rajesh Kumar had also contributed in many Tamil magazines in short stories and thriller series that interested the readers. And he was the choice of readers in a poll conducted by a Tamil magazine which asked its readers to vote for the next author they wanted to read. Rajesh Kumar says that he values appreciation from fans like this more than all the awards in literature.
—Surya Harish